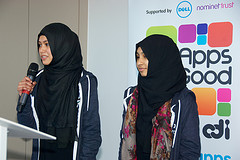 Apps For Good are looking for schools to participate in their training and competition this academic year.  There is a Scottish training date coming up soon (Monday 17th June, I believe Now confirmed at Friday 14th June) so get in touch with them ASAP to apply to join (the closing date for applications is 30th May).
By joining Apps for Good you will receive access to schemes of work, lesson plans and accompanying activities that can be adapted to suit your students' needs. You can deliver the course in a variety of ways – from an after school club to part of your Computing curriculum – and we will help get you set up and provide ongoing support.
Starting from September 2013 onwards, students will work in teams on a 40-60 hour course, culminating in the national competition in June 2014.
Programme Benefits
Teachers
A free one day teacher training event
Access to Apps for Good courses and accompanying lesson plans
Resources and support from industry professionals
Flexible delivery models
Cross curricula opportunities
Support on assessment
Be part of a nationwide community of Apps for Good educators
Students
Learn how to design, market and prototype their own app
Bring their own interests and passions into the project
Work with industry experts in the classroom
Learn with cutting edge software and technology in an engaging way
Develop real world skills such as teamwork, problem solving and public speaking
Enter national and regional competitions
Potentially have their app built and brought to market
More information: